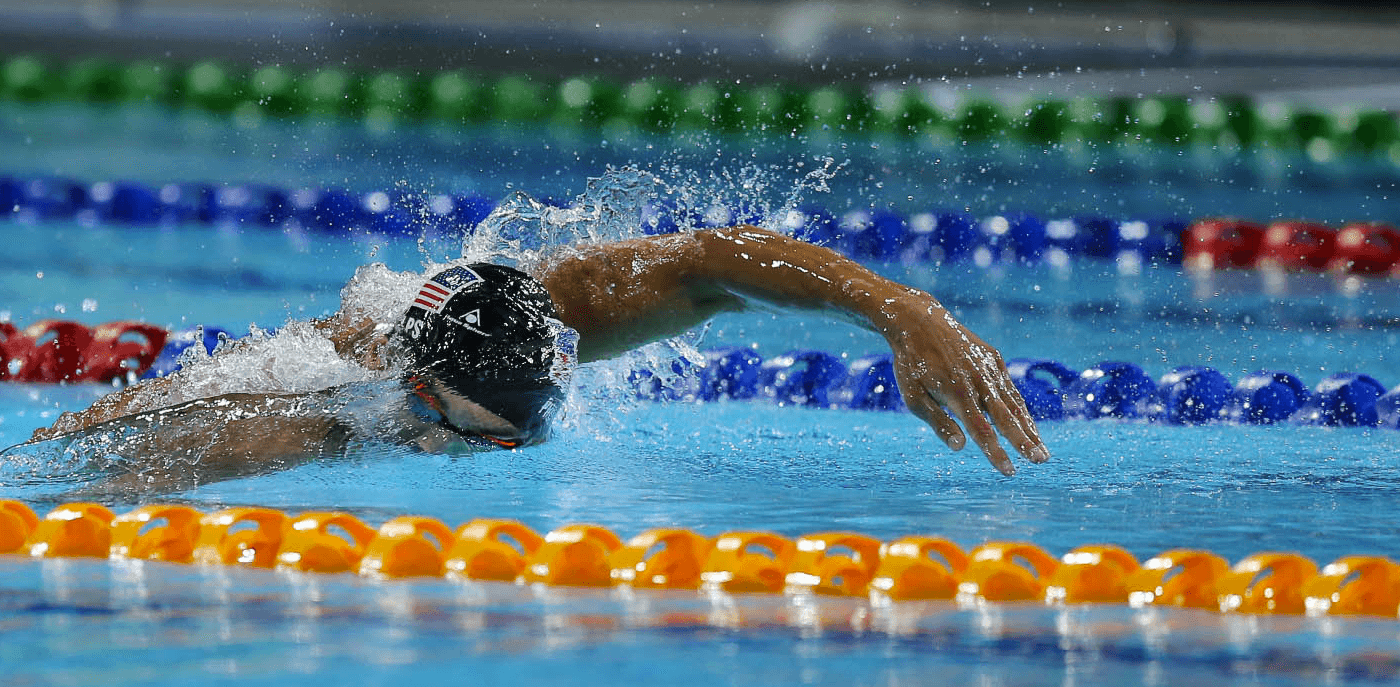 Kevin Bond, SPT
Background
Every year, millions of people swim for exercise and recreation. Swimming is one of the best ways to exercise for people of all ages and gains popularity every four years following the Olympics. Competitive swimming is a different animal and requires an immense amount of time, energy, and dedication. Swimmers in middle school/high school are required to swim 5-7 times per week and cover a distance of 30-40 miles in that time. The propulsive force behind swimming is dominated by the upper extremities. The combination of large, shoulder driven forces and volume of swimming distance/time results in injury. Up to 91% of swimmers report some kind of shoulder discomfort during their swimming career. In addition, the mind set for swimmers is to swim through the pain. Studies have been performed questioning swimmers about pain related to the shoulder. Many believe that pain is normal and should accompany the sport in some capacity. As a result, most injuries fly under the radar until it is too late. Coaches often work with the same mind set about pain. The goal of my project is to change this mindset and give coaches some tools to help swimmers avoid injuries related to swimming.
Statement of Need
Children and adults everywhere are picking up the sport every year. Whether they are looking for a new way to work out or they watched the Olympics and want to participate in the sport after, the result is the same; more swimmers! With the number of swimmers competing inside USA Swimming or recreationally growing every year, the injuries will naturally follow. Injuries can be mild and nagging, but not debilitating. The repetitive, shoulder driven motion of swimming will make these little nagging injuries worse and worse, until they are not completely debilitating. Not only could this lead to decreased participation in swimming, it can decrease ability to perform activities of daily living. For kids, pain can influence participation in school and other age-appropriate activities. There is a need for education on these injuries and ways to prevent these injuries from reaching those debilitating levels. The first person or people that will hear or see these injuries are the coaches. Coaches have limited resources and knowledge about shoulder injuries and what to do about them.
Purpose
Swimming has had an incredible influence on my life. I have always been grateful for the lessons the sport has taught me. Throughout my career, I saw a lot of colleagues, friends, and competitors struggle through injuries and have no direction from the coaches. It was not until they saw a professional that the severity of their problems got unmasked. I believe coaches are the "first line of defense" for shoulder pain and complications. The problem stems from coaches not having the knowledge or strategies to help swimmers complaining of shoulder pain. Because of this, my project is designed for coaches. The purpose is to provide them educational materials and strategies to help reduce prevalence of shoulder injuries related to swimming.
Project Overview/Products
My project contains a presentation for coaches, a supplemental handout for coaches, an evaluation form for coaches about my presentation, and a presentation for physical therapists about treating swimming related injuries. The presentation and supplemental handout is full of information about shoulder injuries, strategies to help reduce the influence of shoulder pain on training, and prevention exercises to reduce the prevalence of injuries. I will be presenting my materials to the coaches of North Carolina at the Senior Championship meet this summer (2019). I have also been in talks with NC Swimming about presenting at the annual coaches conference in September.
The first product is my Presentation for coaches. This PowerPoint presentation reviews the prevalence of injuries, swimmer mindset towards injuries, and shoulder anatomy and pathomechanics. Then, I discuss what coaches can do about these problems. The back half of the presentation discusses what the role of the coach is related to injuries. I give strategies, exercises, stretches, and muscles releases to help get swimmers out of pain and back into the pool.
While I am presenting for the coaches, they will have this supplemental handout in front of them. The supplemental handout contains some of the background information in the PowerPoint, but mostly contains detailed descriptions with pictures of exercises, strategies, stretches, screens, and releases for swimmers when they are in pain. This handout is for them to take with them to use at the pool with their swimmers.
I also created this evaluation form for the coaches to fill out after the presentation. The form will help me assess my presentation and materials for effectiveness and applicability. I can use the information for future presentations to strengthen the effect of the presentation for coaches.
In addition to the above materials, I have created a presentation for physical therapists. During my clinical rotation this summer, I will present to physical therapists about swimmer related injuries. The presentation provides information about the sport that therapists often do not know, normal/abnormal swimming techniques, evaluation necessities, and intervention ideas. In addition, I have created a second for evaluation form physical therapists to help review and improve the presentation for future presentations.
Self-Assessment and Reflection
The ideas and concepts behind this project are years in the making for me. During my time as a swimmer I saw countless swimmers suffer from injuries and saw nothing done about it. Coaches would tell swimmers to "just kick" and not look to actually solve problems. Swimmers would not go see professionals, because they could not afford to miss a single day of practice. This broken system has been eating away at me for years. I am so happy and pleased with my project. I put a lot of work and research in to this and I believe I have taken a huge step in the right direction for the sport of swimming. However, I think there is so much more to do to actually start making a difference. Part of my professional goals is to start making a difference in the world of swimming. I am hoping that this project will get my foot in the door with USA Swimming so I can start working with coaches and swimmers to reduce the prevalence of shoulder pain.
If I have time in the future, I want to look at more than just shoulder pain in the sport of swimming. Swimming is a fully body sport that requires everything to work in unison to provide forward propulsion in the water. There are also more strokes than just freestyle. The potential for this sport is endless. In addition, I want to start bridging the gap between PT and coaching. There is often no communication between coaches and physical therapists. I want to get to know the coaches in my area of practice and urge them to send swimmers my way. Educating coaches on swimming injuries and how PT can help could be huge for the reduction of shoulder injuries.
Acknowledgements
I first want to thank my advisor, Dr. Mike Gross, for helping me with this project. He gave me great direction to start my project and ideas on how to get my thoughts and ideas about injury prevention on to paper. He was always available for questions and comments about my project and I could not be more appreciative for everything he did for me. I also want to thank my committee members, John Denniston and Shawn O'Neil, PT, DPT. John is a local swim coach for the Aquatic Club of Chapel Hill and provided some great insight on the coaches perspective for my project. I have worked with him for 2 ½ years now and was able to bounce ideas off of him weekly. I cannot thank him enough for everything he has done for me to help get this project off the ground. Shawn is a local physical therapist for Pivot Physical Therapy. He worked directly with one of my swimmers and helped her get back into the pool. He felt like the obvious choice for my committee to provide a PT aspect. He gave me some great direction and advice for my presentations from the PT perspective. He was generous enough to take time out of his day and schedule to help me out and I cannot thank him enough.
References
Magee DJ. Athletic and Sport Issues in Musculoskeletal Rehabilitation. St. Louis, MO: Elsevier Saunders; 2011.
Wanivenhaus F, Fox AJ, Chaudhury S, Rodeo SA. Epidemiology of injuries and prevention strategies in competitive swimmers. Sports Health. 2012;4(3):246–251. doi:10.1177/1941738112442132
Struyf F, Tate A, Kuppens K, Feijen S, Michener LA. Musculoskeletal dysfunctions associated with swimmers' shoulder. British Journal of Sports Medicine. 2017;51(10):775-780. doi:10.1136/bjsports-2016-096847.
Crowley E, Harrison AJ, Lyons M. The Impact of Resistance Training on Swimming Performance: A Systematic Review. Sports Medicine. 2017;47(11):2285-2307. doi:10.1007/s40279-017-0730-2.
Matzkin E, Suslavich K, Wes D. Swimmer's Shoulder. Journal of the American Academy of Orthopaedic Surgeons. 2016;24(8):527-536. doi:10.5435/jaaos-d-15-00313.
Johnson JN, Gauvin J, Fredericson M. Swimming Biomechanics and Injury Prevention. The Physician and Sportsmedicine. 2003;31(1):41-46. doi:10.3810/psm.2003.01.165.
Tate A, Turner GN, Knab SE, Jorgensen C, Strittmatter A, Michener LA. Risk factors associated with shoulder pain and disability across the lifespan of competitive swimmers. J Athl Train. 2012;47(2):149–158.
Heinlein SA, Cosgarea AJ. Biomechanical Considerations in the Competitive Swimmer's Shoulder. Sports Health. 2010;2(6):519–525. doi:10.1177/1941738110377611.
Hibberd EE, Myers JB. Practice Habits and Attitudes and Behaviors Concerning Shoulder Pain in High School Competitive Club Swimmers. Clinical Journal of Sport Medicine. 2013;23(6):450-455. doi:10.1097/jsm.0b013e31829aa8ff.
Wilke J, Vogt L, Banzer W. Immediate effects of self-myofascial release on latent trigger point sensitivity: a randomized, placebo-controlled trial. Biol Sport. 2018;35(4):349–354. doi:10.5114/biolsport.2018.78055